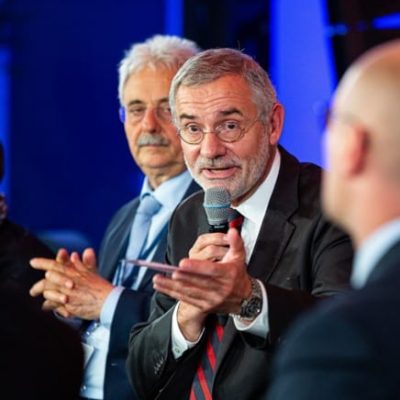 Public transport has been on the front line during the health crisis. What's your initial appraisal? And what's the outlook for the sector in the short and medium term?
Thierry Mallet Mobility authorities and operators have once again demonstrated their expertise in crisis management, delivering continuity of service for public transport and safety for passengers and operational staff, adjusting their offerings, and making sure they serve strategic sites, including healthcare facilities and key economic activities. Public transport in France has lived up to the expectations of both the public and the government during this period.
At the same time, the economic consequences of the health crisis on urban transport have been severe. To date, income from the 'Mobility Payment' levy is estimated to have fallen by at least two billion euros. Commercial revenues have fallen by 50% for the year as a whole – a drop amounting roughly to a further two billion euros. At the same time, mobility authorities and operators have racked up additional costs due to health requirements and the impacts of delays to investment programmes.
UTP, France's Public and Rail Transport Union, is calling on our authorities to implement far-reaching support measures for public transport like those rolled out in many other countries such as Germany, the Netherlands, the UK, and the USA. These would involve three complementary aspects: immediate financial aid; an investment stimulus; and a more flexible legal environment. In financial terms, the support should entail measures to offset the drop in Mobility Payment and commercial revenue as of 2020, a cut in VAT to 5.5% in 2021, and further support as appropriate in 2021, depending on how tax and commercial revenues progress.
As a professional federation and organisation devoted to public transport, what specific actions have you undertaken to support your members during this unprecedented time?
Thierry Mallet We've provided support for our 230 plus members, keeping them constantly informed via a dedicated newsletter. We've also published briefs and factsheets to explain the specific legislation put in place in response to the health crisis. And we've set up a dedicated information portal to cover the health crisis on our webpage.
The European Mobility Expo tradeshow, initially scheduled to run from June 25 to June 27, will take place from December 15-17. What do you think this winter edition has in store for us

?

Thierry Mallet It was important not to cancel this event. Many companies have seen a significant decline in business – and in some cases, have had no business at all. The last quarter of 2020 will be an opportunity for all players in the sector to relaunch their activity. Most of the key players in sustainable mobility will be at the exhibition. This landmark event for the profession offers an opportunity to review the crisis and its consequences, and talk with our opposite numbers from across Europe as we consider the new outlook for public transport.