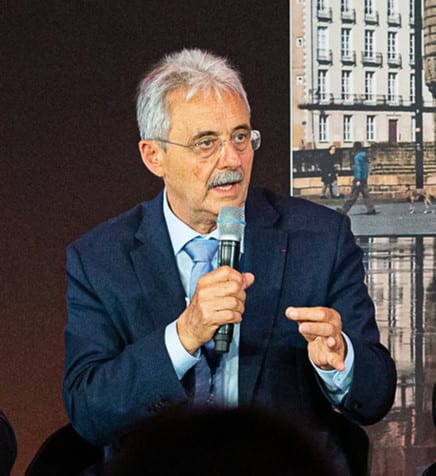 The extent of the crisis we've just experienced is unprecedented, and public transport has been on the front line. What's your initial appraisal of this time? What's the outlook for the sector in the short and medium term?
Louis Nègre Mobility authorities and their respective operators have stepped up to deal with this unprecedented health crisis. Local authorities have also played their part, continuing to honour their public-service commitments, as national government asked them to. The main difficulty that has emerged is the decrease in resources: first and foremost, a drop in revenue from France's 'mobility payment' scheme, accompanied by sharp falls in ticketing revenue. These resources are vital if our transport networks are to operate properly. The health crisis is directly responsible for the decrease in question, and the only solution is to compensate for it. Without financial aid from the state, our public transport networks will be impacted in the long term, with services being reduced, or in some cases disappearing altogether, as a direct result; passengers would be the first to suffer.
Your organisation is a professional federation for public transport stakeholders; what specific actions have you undertaken to support your members during these exceptional circumstances?
Louis Nègre GART has been on the front foot right from the start of the health crisis, providing answers to the questions that have arisen for mobility operators. We've been talking to our members on a daily basis, passing on information we've received from the authorities; we've also been hearing from our members as they provide feedback about the specific issues they've faced at grassroots level. For further support, we've released two publications offering guidance for our members on how to roll out initiatives, both during the lockdown phase and as lockdown restrictions ease. The first of these covered the financial and contractual management of transport networks, more especially relations with transport operators, both for services operated on a tender basis and for those under a public service contract. The second publication is in FAQ format, providing practical answers to questions about the measures members are required to implement on their networks.
The European Mobility Expo tradeshow, initially scheduled to run from June 25 to June 27, will take place from December 15-17. What do you think this winter edition has in store for us?
Louis Nègre Firstly, it's important to be clear that the 2020 edition will take place in full compliance with all health measures in force. We'll be constantly on the alert to protect the health of visitors and exhibitors alike. And at this unusual time, European Mobility Expo 2020 will be a key opportunity for industry stakeholders. The Covid-19 crisis has led to new practices emerging and others taking on fresh importance. For instance, more and more people are cycling, especially in city centres. Our exhibition will be examining the new prospects for the sector and the many challenges we'll be facing. It will also be an opportunity to meet GART's new directors, who will be elected in November in the wake of France's local council elections.