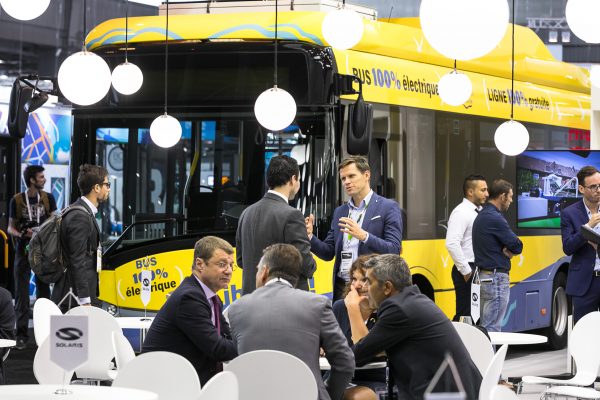 A new French operator, a UK bus manufacturer, an Italian ticketing firm and a maintenance provider are among those who'll be presenting their products and services in Paris for the first time this year!
 Manufacturers: Switch Mobility, a UK subsidiary of Indian utility vehicle manufacturer Ashok Leyland, will be in Paris presenting its range of electric vehicles.
New entrant Le Train will be exhibiting alongside longstanding French operators Transdev, SNCF, RATP, and Keolis. As well as unveiling its service offering and recruiting staff, the firm is currently engaged in final selection of rolling stock, finalising its maintenance programme, and entering into technology partnerships. Le Train is aiming to launch in 2022, marketing routes to western France.
Street furniture specialists Urbaneo will be exhibiting two new products: a new 'on-demand ride-sharing' terminal and a temporary stop complete with bus shelter: during works along a route, this makes it easier to board and protects users from inclement weather while they wait.
With extensive experience in the healthcare sector, Drager is now presenting a fire and rescue service offering developed for mobility stakeholders.
Esri will be presenting transport system optimisation solutions that focus on the integration and management of infrastructure life cycle data.
 Visitors will also be able to find out all about two solutions marketed by Brittany-based firm Cervval: a customised scheduling solution known as Zurvan Planning and DigiTwin, a 'virtual twin' that can be used to calculate, forecast, and display scenarios such as how construction of a tram line will affect traffic in cities.
Also present
Aunde – extensive range of textiles and leather for seating.
Cofransel  – iPad app to monitor the condition of bus and coach seats, identify the type and location of any problems, and order repairs online.
Sigma – Italian company specialising in self-service ticketing solutions.
Soa, developing user-friendly workspaces for control rooms and other facilities.
Moovit, a provider of MaaS solutions.
Cognidis, which develops SaaS solutions, and public transport procurement network.