An innovative project to improve urban mixing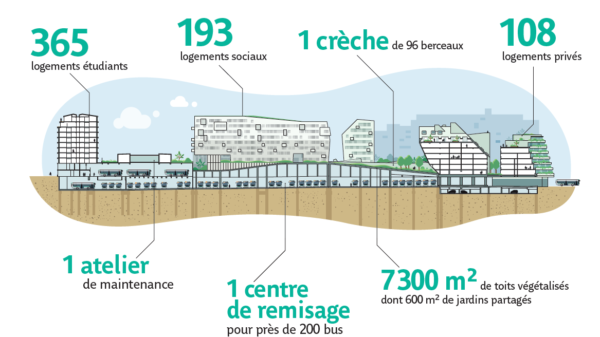 In the heart of Paris's 14th arrondissement, a new neighbourhood emerged around an industrial real-estate project located between Boulevard Jourdan, Rue du Père Corentin and Rue de la Tombe-Issoire.
Demand for public transport in Île-de-France is on the rise. To address this request, RATP is determined to preserve industrial infrastructure – particularly bus stations in the city centre, where the need is greatest – while working to incorporate them into the cityscape.
As such, RATP and its subsidiaries, RATP Habitat and RATP Real Estate, have expanded and upgraded the Porte d'Orléans bus station (a late nineteenth-century construction) by way of an innovative, new urban mixing project. The bus station integrates seamlessly with housing units in the new development. RATP Habitat is responsible for the social housing element, while Eiffage Immobilier is responsible for private housing and public facilities for the City of Paris.
In all, the complex includes a modernised, enlarged bus station capable of accommodating 183 buses – the centrepiece of the project – plus more than 660 housing units, including 193 social housing units, 108 private units and a residence to house 365 students.  The expansion also includes a nursery and a part-time daycare centre capable of accommodating 96 children.
This new urban complex features green spaces with rooftop and hanging gardens covering 7,300 m2, including 600 m2 of shared gardens and urban gardening plots.
This is the first project produced under the Memorandum of Understanding signed in December 2014 between the City of Paris and RATP for the construction of 2,000 housing units by 2024, with at least half of the units dedicated to social housing. This work carried out as part of the plan to redesign some dozen RATP industrial sites.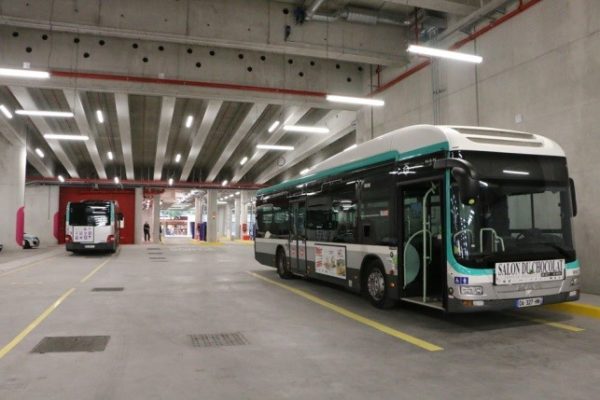 Architecture that provides quality living space
In order to bring this ambitious architectural concept to life, the RATP Group and the City of Paris contracted three architectural firms to manage the project, following a competitive selection process: Nasrine Seraji, Eric Lapierre and Emmanuel Combarel & Dominique Marrec.
The uniqueness of this project lies in the fact that these three firms worked together on the bus station, and then each undertook to build a different part of the project upon that shared foundation: Nasrine Seraji built the social housing, the private housing on the Boulevard Jourdan, and the nursery; Eric Lapierre built the student residence; and Emmanuel Combarel & Dominique Marrec built the private housing on the Rue du Père Corentin. As a result, each building possesses a unique and original design, while still forming a cohesive unit with the bus station at its centre. The quality of life and convenience of the different buildings was carefully considered to ensure the utility and function of the bus station as well as the housing units and nursery. The architectural project overlays the different floors in various and irregular ways, with a focus on light, airiness and vegetated areas.